Chichijima Island
Miyanohama Beach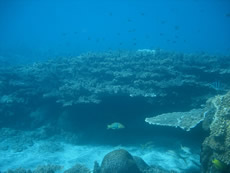 [Miyanohama coral reef] Miyanohama Beach is situated in the northern part of Chichijima Island. With Anijima Island positioned directly offshore, this beach is ideally located. Underwater coral reefs and a large variety of fish species appeal to divers. As the rapid tidal currents further offshore are dangerous, refrain from going beyond the warning buoys.
Minamishima Island
Situated in the western part of Chichijima is Minamishima, a long, narrow island measuring one kilometer from north to south. The sharp contrast formed between the white limestone and the blue sea is simply breathtaking. The vicinity of Minamishima is a submerged karst area marked by dolines, lapiaz formations, and other types of topography where one can explore extinct Mandarina luhuana fossils. (Visitors are strictly prohibited from collecting these fossils.) All visitors must be accompanied by Tokyo nature guides upon arriving on the island.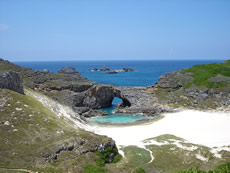 [Ougi Pond on Minamishima]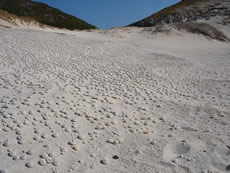 [Mandarina fossils on Minamishima]
Senjiniwa ("Heart Rock")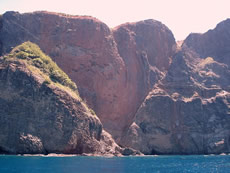 [Heart Rock] A giant heart-shaped rock towering approximately 200 meters off the ground occupies a corner of the sea cliffs on the south shore of Chichijima Island. It is believed that laterite soil on the upper part of this formation was washed away by rains, thereby causing the rock surface to stain. This rock is a destination for many trekking tours. In winter, visitors can try and spot humpback whales swimming in the ocean from this vantage point.
Hahajima Island
Mt. Chibusa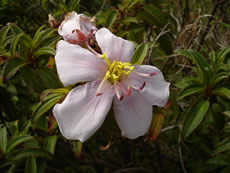 [Melastomataceae plant in bloom
on Mt. Chibusa] Mt. Chibusa is a 462-meter-high hill situated in the center of Hahajima Island. It is the highest peak in the Ogasawara Islands. The upper parts of Mt. Chibusa are a fog zone and many endemic species of vegetation, including Melastoma pentapetalum and Dendrocacalia crepidifolia (Nakai) Nakai ex Tuyama, inhabit this area. A climbing trail extends from Okimura and functions as an ideal trekking course.
Sekimon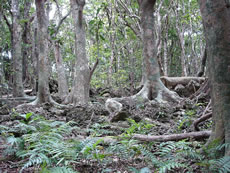 [Vegetation growing atop lapiaz
formations
(weathered limestone) in Sekimon] Positioned about 300 meters above sea level, Sekimon is a plateau situated in the northern end of Hahajima Island. Created through upheavals of limestone, this plateau boasts of a unique landscape in which trees grow atop lapiaz formations. Old-growth wet silvas that are representative of Hahajima Island grow extensively in this exceedingly valuable area. All visitors must be accompanied by Tokyo nature guides upon arriving at this plateau.
Page top