Mountaineering information: a region of steep mountains
Compared to other peaks belonging to the Minami Alps, Mt. Kita-dake, Mt. Kaikomagatake, and Mt. Senjogatake in the northern part of the Minami Alps are marked by relatively short approaches, equipped with better mountain lodge facilities, and visited by more climbers. Mt. Hijiri-dake, Mt. Akaishi-dake, Mt. Arakawa-dake, and other peaks in the southern part of the Minami Alps are marked by longer approaches and lack mountain lodge facilities that provide bedding and meals. Accordingly, climbers require greater physical strength and mountaineering gear to tackle these mountains.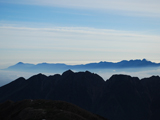 [Mt. Hijiri-dake]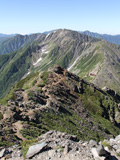 [Mt. Kita-dake]
Alpine plant: the endemic
Callianthemum hondoense
Callianthemum hondoense is a species of perennial native to the alpine region of Mt. Kita-dake (3,193 meters above sea level) of the Minami Alps. These plants grow to 10-20 centimeters in height, bloom in June and July, and are characterized by a single white flower measuring about 2 centimeters in diameter at the end of each stem. As its flowering season is early in the year, it is the first species of which fields of flowers come into bloom after the spring thaw.
Wildlife: ptarmigan habitat zone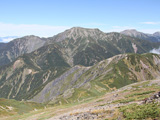 [A ptarmigan] The alpine region of the Minami Alps is a ptarmigan habitat zone that has been designated a special national monuments by the national government. It is estimated that there are only about 3,000 ptarmigans left in the entire country and the species is believed to be especially endangered in the Minami Alps. Do not disturb any ptarmigans you may come across as you explore the mountains.
Brochures
Minami-Alps National Park (Published March 31,2015)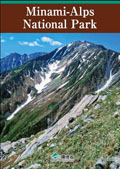 1.front cover [PDF 332KB]
2.Kanto Area Map & CONTENTS [PDF 1,102KB]
3.P02 - P11 [PDF 4,551KB]
4.P12 - P17 [PDF 2,431KB]
5.P18 - P25 [PDF 4,397KB]
6.back cover [PDF 156KB]
Page top