Ishigakijima
Ishigakijima is an island located 411 kilometers from Naha and measuring 229 square kilometers in area. The island is the site of Mt. Omoto-dake, the highest peak in the prefecture, as well as home to subtropical broad-leaved forests in mountainous areas of the island and a mangrove forest around the mouth of the river. Reefs extend for over a kilometer in length in some places offshore.
Mt. Omoto-dake
Rising 525.8 meters above sea level, Mt. Omoto-dake is the highest peak in Okinawa Prefecture. On clear days, visitors can admire a landscape that weaves together the Omoto Mountain Range with Ishigakijima's offshore reefs. The island's geological profile is based on a granite foundation. Forests of Castanopsis sieboldii, Distylium racemosum, and other subtropical trees grow between low-lying areas and the upper slopes of mountainous areas. The upper slopes of mountainous areas are home to groves of Pleioblastus linearis Nakai (bamboo) and constitute the shared habitat and breeding ground of a number of valuable (for academic and other reasons) plants and animals, including Ochlodes asahinai Shirozu, a species of butterfly that is endemic to the Yaeyama Islands.
Mt. Nosoko-dake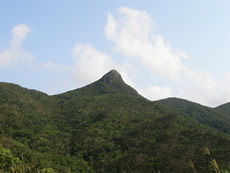 [Mt. Nosoko-dake] Rising 282 meters above sea level, Mt. Nosoko-dake is a craggy landmark peak capped by a giant cylindrical, tower-shaped rock. Due to its association with a tragic legend involving a young woman named Mapee, this peak is also called Mt. Nosoko-Mapee. Mapee, who was exiled here from Kuroshima in 1732, could not forget the man she loved and left back on Kuroshima. Thinking that she could at least attempt to make out the vague outline of that distant island to console her lonely heart, she climbed Mt. Nosoko-dake but found her view blocked by Mt. Omoto-dake. Filled with despair, she turned into a stone figure rooted to the summit of this peak. Mt. Nosoko-dake can be climbed in less than an hour from its foot or in about 15 minutes from Nosoko Forest Road.
Kabira Bay
The Kabira Bay area offers the finest scenic views on Ishigakijima, the elements of which include cerulean waters that vary slightly in hue in accordance with the rhythm of the tides and weather conditions, a white sandy beach derived from coral reefs and limestone, a seashore formed as a result of the erosion of coral reefs and limestone and covered by lush subtropical coastal flora, and a scattering of islets and rocky islands at the entrance to the bay.
Fukido River
One of the most superbly preserved mangrove forests on Ishigakijima covers approximately 500 square meters of the Fukido River. Eco-tours involving kayaks and other means of transportation are offered to visitors.
Nagaru-Anparu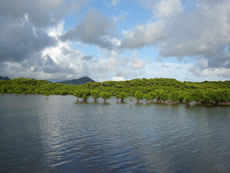 [Nagaru-Anparu] Nagaru-Anparu is a tideland area covering an expanse measuring 1.5 kilometers from east to west and 2.0 kilometers from north to south at the mouth of the Nagaru River. This area is used for nature exploration, eco-tours, fishing, crab fishing, and various other pursuits. Given its international importance as a relay point for migrating birds and as a habitat for forest-dwelling birds, Nagaru-Anparu was registered as a Ramsar Site under the Ramsar Convention in November 2005.
Groves of Yaeyama Palm Trees in Yonehara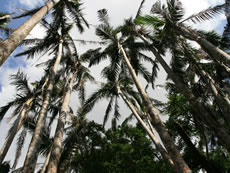 [A Yaeyama palm tree grove
in Yonehara] Yaeyama palm trees are endemic to the Yaeyama Islands and are found growing only on the islands of Ishigakijima and Iriomotejima. Groves of Yaeyama palm trees in Yonehara have been collectively designated a National Natural Monument. Platypleura albivannata M. Hayashi cicadas, seen only on Ishigakijima, also live in certain groves of Yaeyama palm trees. These groves have been designated as Natural Habitat Conservation Area for this insect.
Vantage points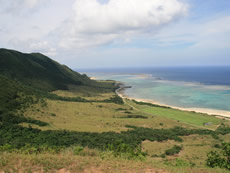 [View from Akaishi Para-World]
Tamatorizaki Observatory

Tamatorizaki Observatory is an observatory with a beautiful sweeping view of the landscape around the northeast coast consisting of a range of hilly peaks, pastureland, a white sandy beach extending in a large arc by the water's edge, overhanging reef slopes seen offshore, and an emerald-green lagoon.
Akaishi Para-World Take-Off Area

The Akaishi Para-World Take-Off Area affords a spectacular integrated view of Mt. Kuura-dake, gently contoured pastureland extending away from this peak, and emerald-green reefs. Visitors will be treated to magnificent scenery of the sort that can only be experienced in a national park of this caliber. As this vantage point is situated on a ranch, you are asked to close the gate behind you when you pass through it.
Uganzaki Lighthouse

This spot affords a view of a majestic landscape comprising a tempestuous shore reef zone and the waves of the sea crashing ashore below. Situated on the west end of Ishigakijima, this vantage point is also great for watching the setting sun. In springtime, this area is famous for its fields of Easter lilies in bloom.
Marine Park Zones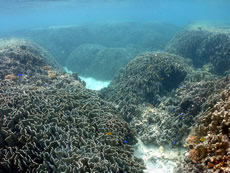 [Blue coral colony
(Shiraho Marine Park Zone)]
Hirakubo Marine Park Zone

Found in Hirakubo Marine Park Zone are high-coverage coral communities composed mainly of branched

Acropora

coral as well as an abundance of tropical fish. With relatively little interference from human activities conducted on land, this location boasts of coral communities that are in relatively excellent condition, even when compared to other areas around Ishigakijima.
Kabira Marine Park Zone

A diving spot known as the Manta Scramble can be found in Kabira Marine Park Zone, which is popular among divers thanks to the strong likelihood that they can spot a manta ray here. There is high coverage by

Acropora

coral and other species of reef-building coral in this area.
Yonehara Marine Park Zone

The lagoon in Yonehara Marine Park Zone is high in coral coverage with excellent mixed, coral diversity comprising colonies of

Acropora, Pavona decussata

, and

Porites

coral. Exceptional accessibility to this zone allows visitors to snorkel and explore the underwater natural environment here with ease. Campgrounds in Ishigaki City have also been developed and are equipped with washroom and shower facilities.
Shiraho Marine Park Zone

Shiraho Marine Park Zone is home to the largest colony of blue coral in the northern hemisphere. Many micro-atolls consisting of vast communities of Porites and blue coral can also be seen here. Glass-bottom boat tours and snorkeling activities are popular among visitors to this zone.
*Exercise due caution to avoid harming corals when snorkeling or diving in areas where coral reefs are located. Also, be aware that water accidents occur yearly on the sea in and around the Yaeyama Islands. When swimming, pay sufficient attention to conditions of the sea, tide, and weather.
Page top