Lake Towada and the Oirase River, which drains this sublime body, combine to create a beautiful landscape resplendent in greenery and water. Mt. Iwate and other volcanoes, as well as a forest of Aomori fir trees and moors, can be found in the Hachimantai area. Hot springs dot the park, and visitors can enjoy mountain climbing and dips in hot spring baths.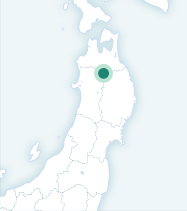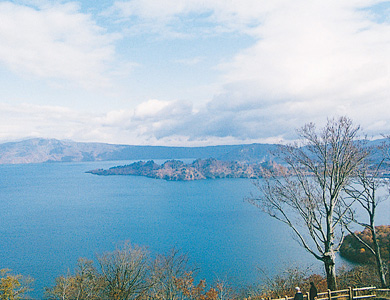 Designation: February 1, 1936
Area: 85,551 ha
Prefectures: Aomori, Iwate, Akita
To contribute the reconstraction, Sanriku-Fukko National Park was established with areas of outstanding natural beauty, suchas the Rikuchukaigan National Park at its core on May 2013. The rugged coastline to which a precipitous cliff continues is splendid and is often referred to as "The Sea Alps ." Breeding grounds for black-tailed gulls, petrels, and other species of birds can be found here.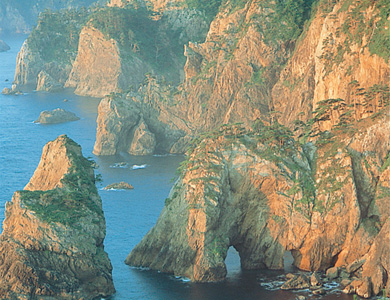 Designation: May 2, 1955
Area: 14,635 ha
Prefectures: Aomori, Iwate, Miyagi
Bandai-Asahi National Park is blessed with mountains, forests, and lakes. Visitors to the park can marvel at Mt. Dewa-Sanzan, which is famous as a site for mountain worship, gaze upon the Asahi and Iide peaks and Mt. Bandai, and enjoy the beautiful sights of hills and numerous lakes and marshes from vantage points in the Urabandai area and Lake Inawashiro. The park is home to antelopes, black bears, and other species of wildlife.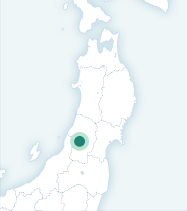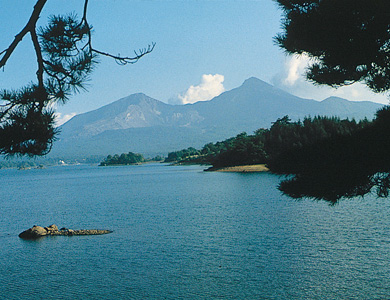 Designation: September 5, 1950
Area: 186,404 ha
Prefectures: Yamagata, Fukushima, Niigata
Page top