Exploring area ponds
Follow a circuitous route that starts and ends in Murodo. Along the way, you will pass through Gozengamine (tallest peak on Mt. Hakusan at 2,702 meters above sea level), and explore seven large and small crater lakes dotting the summit area, including Midorigaike (the largest) and Senjagaike, a pond with perpetual snow that legend describes as having been used by Taicho Daishi, founder of the sacred site of Mt. Hakusan, to trap snakes that had committed evil deeds at the foot of the mountain.
This route will expose you to numerous species of alpine plants typically found in the Hakusan area, including Geum pentapetalum. Nature guides are stationed in the park and nature-study meetings are regularly held during the summer months.
Zenjodo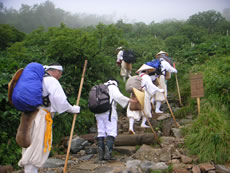 [Pilgrims ascending Mt. Hakusan] In 832, Banba ashrams were established in three different provinces, which are known by their modern-day names as Ishikawa, Fukui, and Gifu. From these ashrams came worshippers who embarked on pilgrimages to Mt. Hakusan. The routes they took for this purpose are referred to as zenjodo. Namely, they are Kaga zenjodo, Echizen zenjodo, and Mino zenjodo. The former two and a part of the latter route are still in use today as mountaineering trails.
Kuroboko-iwa
Kuroboko-iwa is a large rock lying at the junction of Kanko Shindo trail and Sabo Shindo trail. When Mt. Hakusan first emerged as a new volcano in the prehistoric age, this rock was discharged as a volcano bomb and brought here by pyroclastic flows. Its surface is pockmarked to such an extent that it is referred to as a bread crust bomb.
Hyakuyojo(104)-no-taki Falls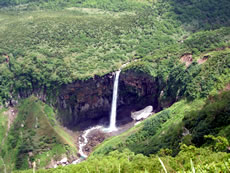 [Hyakuyojo-taki Falls] Hyakuyojo-no-taki Falls is a famous waterfall with a 90-meter vertical drop and can be seen from One on the Kaga zenjodo trail. The manner by which water flows over the edge of the falls from an inclined section of the majestic Seijogahara Plateau is evocative of the inspiration that can be derived from the Hakusan area.
Fudo-taki Falls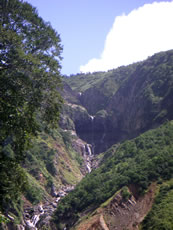 [Fudo-taki Falls] Fudo-taki Falls is a waterfall that can be seen from the Sabo Shindo trail. Historically referred to as Sandan-no-Taki ("Three-Tiered Falls"), it was also a famous spot for worshippers of the Hakusan faith.
Shiramizu-no-taki Falls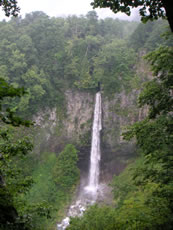 [Shiramizu-no-taki Falls] Shiramizu-no-taki Falls is one of the three most famous waterfalls in Japan. Drive along a prefectural highway from Hirase in Shirakawa Village, Gifu Prefecture, through a forest from which a local valley can be seen until you reach a picnic site with a walking trail. An observatory set up at this location commands a fine view of a powerful waterfall with a considerable vertical drop in the middle of a beech forest.
Lake Hakusui
Lake hakusui is an artificial lake (resulting from the construction of a dam) tinged with hues that change with the seasons. Reflections of an old-growth beech forest in the surface of the emerald-green lake exude a magical aura. Mt. Bessan and the main peaks of Mt. Hakusan are also picturesque from this vantage point.
Funsento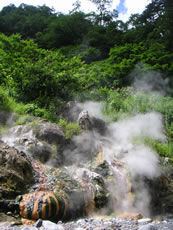 [Funsento] Follow a mountain trail from Shiniwama Onsen, stop off at a particular point to enjoy a free, open-air hot-spring bath, and descend until you reach a valley in the area, where you will come across Funsento, a strange rock emitting hot-spring water and designated a natural monument by the national government. This protruding tower was created over many years through the accumulation of lime contained in the water.
Giant cedar of Itoshiro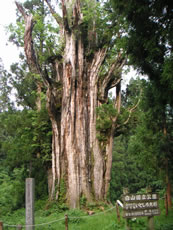 [Giant cedar of Itoshiro] This giant cedar tree is the fifth largest cedar tree in Japan and can be reached by ascending a slight distance from the mountaineering base located on Mino zenjodo (Itoshiro Road) in Itoshiro, Gujo City, Gifu Prefecture. Measuring 13.45 meters around its trunk, it is also referred to as "Junikakae-no-Osugi" for the fact that it takes twelve adults holding hands to fully enclose the tree in a human embrace. This tree has been designated a natural monument by the state.
Komochi-katsura tree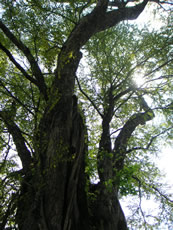 [Komochi-katsura] This tree is a giant katsura tree situated in Ichinose, Hakusan City, Ishikawa Prefecture. Measuring 15.6 meters in trunk circumference and 43 meters in height, it is one of the largest living specimens of katsura in the country. Surrounding this tree is a forest of giant buckeye and beech trees. This area is generally unexplored at times outside of the period of lingering snow on account of the difficulties entailed in reaching this location. Persons interested in embarking on an eco-tour or mini-adventure might wish to consider this destination as an option.
Iwayamatatani Picnic Site Hakusan Observatory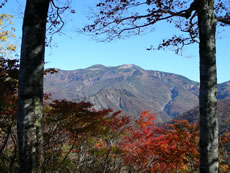 [Iwayamatatani Picnic Site
Hakusan Observatory] Ascend a nature trial extending from Hakusan Onsen in Ichinose for twenty minutes until you reach an observatory in Azumaya, from where you can readily see the main peaks of Mt. Hakusan. Ascend for another forty minutes to reach an observatory from where you can obtain impressive panoramic views of the Mt. Hakusan area. Truly a must see.
Nekuratani Picnic Site skunk cabbage colony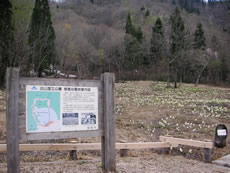 [Nekuratani Picnic Site
skunk cabbage] Access this area with ease via an opening by a roadway leading to Ichinose from Shiramine. Walk for five minutes from your parked vehicle to reach the largest colony of skunk cabbage plants growing at the foot of Mt. Hakusan. There are plenty of other attractions as well in the area, including views of Mt. Bessan, a chestnut forest brimming with natural light, and a former district of dezukuri-style living and charcoal kilns.
Heisenji Temple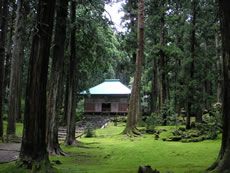 [Heisenji Temple] Also known as Kokedera, Heisenji Temple is situated in Katsuyama City, Fukui Prefecture. Taicho Daishi, founder of the sacred site of Mt. Hakusan, discovered Mitarai Pond, built a shrine by this pond, and ascended Mt. Hakusan from this spot. While home to 6,000 monks during the Genpei era, a good portion of this shrine was destroyed in a revolt that occurred in 1574. Today, this area is characterized by a tranquil mood and the beauty of moss that carpets clumps of cedar trees.
Hakusan-Chukyo Jinja Shrine
Hakusan-Chukyo Jinja Shrine is an old shrine situated in Itoshiro, Shirotori, Gujo City, Gifu Prefecture, hallowed since days of old as a village of deities. It was a core shrine used by teachers in their efforts to propagate the Hakusan faith throughout Japan. Giant cedar trees over 13 centuries old line a pilgrimage route and a dignified air permeates the tranquil setting.
Page top