Mt. Tateyama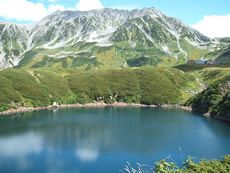 Mt. Tateyama is one of the three most sacred mountains in Japan, alongside Mt. Fuji and Mt. Hakusan. It consists of three peaks: Mt. Onanji (the highest peak at 3,015 meters above sea level), Mt. Oyama (the dominant peak), and Mt. Fujino-oritate). Throngs of pilgrims make their way to the summit of Mt. Oyama during the summer mountaineering season. Just below the west side of Mt. Oyama is a glacial remnant known as the Yamasaki Curl. This cirque formation has been designated a natural monument by the national government.
Kurobe Dam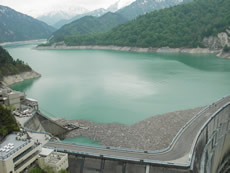 As you drive along the Tateyama-Kurobe Alpine Route, you will come across the Kurobe Dam, which sits 1,470 meters above sea level. Completed in 1963, it measures 186 meters in height and 492 meters in length and constitutes the largest arch-type, dome-shaped, overflow dam in Japan, with a total impoundment volume of approximately 200 million cubic meters of water. Every year between June 26 and October 15, nearly 1 million visitors arrive to witness sluicing operations conducted for tourists at a rate of over 10 cubic meters of water discharged per second.
Tsugaike Nature Park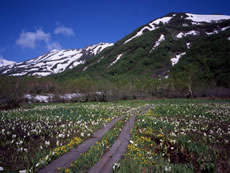 Stand at the entrance to Tsugaike Nature Park, a high moor positioned 1,900 meters above sea level, and enjoy the sights of an expansive moor, gently blossoming skunk cabbage plants, and the greenery of scrub thickets against the magnificent backdrop of the Hakuba Mountain Range, with its peaks still covered with lingering snow. In autumn, this wetland takes on a kaleidoscopic range of fall colors. A wooden trail has been constructed all the way to the innermost observatory station within the park to allow visitors to fully explore the alpine plants to be found here.
Happo-One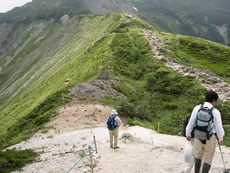 The Happo-One Nature Study Trail commands an impressive view of the Hakuba-Sanzan Mountains, Mt. Goryu-dake, and Mt. Kashimayarigatake and extends from Kurobishitaira (1,700 meters above sea level) to Happo Pond. Kurobishitaira is a high moor where Hemerocallis middendorffii var. esculenta, Eriophorum vaginatum L., Veratrum stamineum, and other flowering species bloom at the beginning of summer. The area along the trail leading to Happo Pond is famous as an important repository of various alpine plants, including lingonberry and Filipendula multijuga Maxim, as well as alpine butterflies.
Hakuba Daisekkei Gorge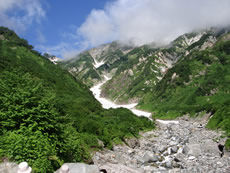 One of the three largest snowy gorges in Japan, the Hakuba Daisekkei Gorge is also considered Japan's largest snowy gorge during the summer season when it measures 3.5 kilometers in length and 100 meters in width. A variety of alpine plants -- including Glaucidium palmatum, Diphylleia grayi, and Jesoana primrose -- can be found in bloom along the Hakuba Daisekkei Trail leading from Sarukura (1,240 meters above sea level), a base used for climbing Mt. Shirouma-dake, to Hakubajiri (1,560 meters above sea level). The Hakuba Daisekkei Gorge can be seen upon reaching Hakubajiri. You will need to be outfitted with proper mountaineering gear if you intend to enter the gorge.
Kamikochi
Visitors to Kamikochi are immediately dazzled by the majestic mountains of this area and by Taisho Pond, the surface off of which these mountains are reflected. Taisho Pond was formed when Mt. Yake-dake erupted in the fourth year of the reign of Emperor Taisho (1915) and caused the damming of the Azusa River. At the time, the pond was surrounded by a large number of dead, withered trees. As rock debris and mud flowed into it from upstream and connected tributaries, its surface area subsequently shrank and there also came to be fewer trees on its shores. At present, the pond has been reduced to about a quarter of its original size.
Shinhodaka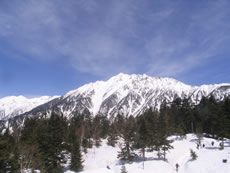 Shinhodaka lies at the junction of two rivers: Migimata, which flows down from the direction of Mt. Yarigatake and Hotaka, and Hidarimata, which flows down from the direction of Mt. Kasagatake and Mt. Sugorokudake. As a peak belonging to the Hotaka Mountains, Shinhotaka serves as the starting point of climbs up Mt. Nishihotakadake, which rises 2,909 meters above sea level, as well as Mt. Kasagatake, Mt. Sugorokudake, and other local mountains and is beloved by many climbers as a spot from which to gaze upon the Kita Alps while soaking in hot-spring baths. A popular site year-round, Nishihotakaguchi commands an excellent panoramic view extending from Okobanotsuji to Mt. Kasagatake and Mt. Sugorokudake when facing westward and Mt. Nishihotaka-dake and the Kita Alps when facing northward.
Mt. Norikura-dake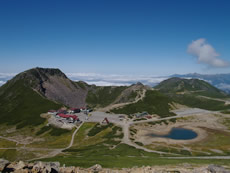 Take the Norikura Eco-Line (open from July to October) from Nagano or the Norikura Sky-Line (open from May 15 to October 31) from Gifu to ascend uninterrupted to Tatamidaira (2,700 meters above sea level). The autumnal tints on glorious display from the end of September to the beginning of October should not be missed. During this season, the slopes come alive with the green needles of dwarf stone pines, the yellowing leaves of gold birch trees, and the crimson foliage of mountain ash trees.
As private cars are subject to restrictions, you are asked to park your car in the parking lot and take a shuttle bus to proceed. Terminal station Tatamidaira is the highest point in Japan accessible by bus or bicycle.
To reach the Kengamine peak of Mt. Norikura-dake, walk for about an hour and a half from terminal bus station Tatamidaira to Kengamine. The summit affords an unbeatable 360-degree view of the Kita Alps, Mt. Ontake, the Chuo Alps, and the Minami Alps.
Norikurakogen Ichinose- Picnic Site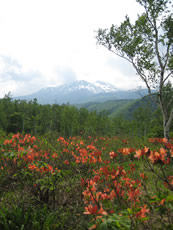 Encircled by a forest of white birch trees, this grassland is home to clusters of Convallaria keiskei, Japanese azaleas, Japanese plum trees, and other seasonal flowering plants. The ponds that dot the area also feature a variety of flowering wetland species, including skunk cabbage and bog-bean plants. There is a cattle pasture based here and the inverted image of Mt. Norikura-dake as reflected in the surface of a lake in the foreground is famous. The Norikurakogen Ichinose-Picnic Site is also well known as a habitat of Enallagma boreale circulatum Selys dragonflies, salamanders, and forest green tree frogs.
Ichinose Ranch, where cattle can graze in the fields during the summer months, is the perfect spot from which to admire an excellent view of Mt. Norikura-dake while enjoying a leisurely picnic.
Page top