Oki Coast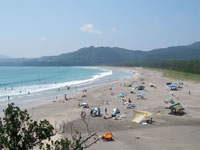 The Oki Coast is a beautiful pine-wooded, shallow beach of white sands--a rare type of landscape for Kochi Prefecture--stretching for 1.5 kilometers along the water's edge. A favorable spot for engaging in the sport of surfing, the area draws many surfers to these shores. Also famous as a spawning ground of loggerhead sea turtles, the Oki Coast is one of two protected areas in the prefecture designated pursuant to the Kochi Prefecture Ordinances for the Protection of Sea Turtles.
Cape Ashizuri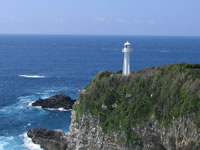 Cape Ashizuri is famous as a place of scenic beauty at the southernmost tip of Shikoku. A picture of exquisite harmony is drawn among elements comprising the deep-blue Pacific, the granite sheer cliffs, and Japan's largest white lighthouse. A nature trail built here allows visitors to savor a tunnel of Camellia plants, the wave-eroded Hakusan Cave Mouth, and other points of interest. Kameyobiba ("Turtle Summoning Place") is one of the Seven Wonders of Cape Ashizuri. You have a very good chance of spotting a sea turtle from this location.
Toruma's Sunset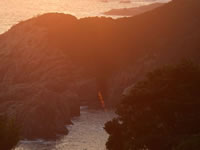 For only a few days around the spring equinox and the autumnal equinox, the setting sun can be seen threading the approximately 80-meter long, 4-meter wide, wave-eroded cave tunnel known as Sakama-no-Dokutsu. This amazing natural phenomenon can be viewed from a vantage point in front of Odo Tombo Park along the prefectural road heading in the direction of Cape Ashizuri.
Ako

tree (

Ficus superba Miq. var. japonica Miq.

) of Matsuo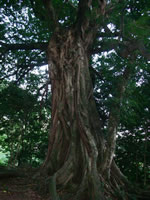 The three century-old Ako tree of Matsuo is an indigenous Ficus superba Miq. var. japonica Miq. tree standing within the precincts of Matsuo Jinja Shrine. Ficus superba Miq. var. japonica Miq. trees are subtropical evergreens that live off parent trees by hanging their roots on their hosts. They are known as the "strangling tree" for the manner in which this action ultimately results in the encasement and death of the host. This tree was designated a National Natural Monument in 1921. The Matsuo Area is home to historic fishing villages and retains many historically relevant artifacts.
Usubae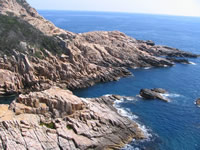 Jutting out from the western edge of Cape Ashizuri is a stretch of land abundantly marked with variations formed over time by the actions of waves crashing ashore. The Usubae Lighthouse and an observatory built here offer excellent vantage points from which to enjoy views of the majestic Pacific that cannot be adequately captured in still photos. This location is also famous as a destination aspired to by cast fishing enthusiasts.
Tatsukushi Coast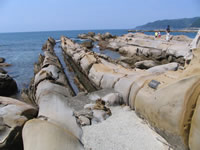 The Tatsukushi Coast is marked by a landscape composed of oddly shaped rocks comprising tertiary deposits of sandstone that have been weathered and eroded by waves over time. Different names, such as Otake-Kotake ("Big Bamboo, Small Bamboo"), Shiborimaku ("Wrung Cloth"), and Senjojiki ("Thousand Tatami Mats") based on the shapes of these rocks have been given. Visitors can complete the walking trail built here at a leisurely pace in about 30 minutes.
Minokoshi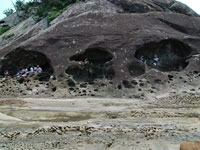 Featuring the same geological conditions as the Tatsukushi Coast, Minokoshi is the site of an extended landscape of strange rock formations. These formations have been given such names as Ningyo Goten ("Mermaid Castle") and Hachi-no-Sujo ("Honeycomb Castle"). Visitors can stroll completely around a walking course set up here in one hour. The name of this area is derived from the fact that a long, long time ago, even the venerable Kobo Daishi managed to overlook this area owing to the difficulties entailed in passing by this way.
Tatsukushi Marine Park
In 1970, Tatsukushi Marine Park became one of the first areas in Japan to be designated a Marine Park Zone. While the park encompassed a total area of 13.8 hectares over three zones at the time, it has since expanded in area to 49 hectares over four zones. The park has long offered various facilities for enjoying the underwater seascape, including glass-bottom boats and an underwater observatory tower (Ashizuri Kaiteikan). More recently, there has been an increase in visitors arriving at Tsumajiro (Tatsukushi Marine Park, Zone 1) to enjoy some snorkeling.
Kashiwajima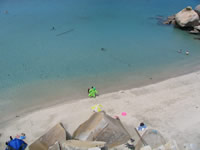 Despite constituting a small island measuring 4 kilometers in circumference, Kashiwajima has managed to foster considerable biodiversity made possible by the presence of clear seas attributed to tidal currents and by the influence exerted by the Kuroshio Current and the Bungo Channel. The island is highly popular among divers.
Odo Coast & Kannon-iwa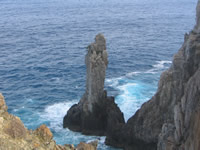 A beautiful coast is rendered by the sublime contrast achieved between the cerulean seas and the white sheer cliffs found here. There is an oddly shaped rock formation known as Kannon-iwa, so named for its form, located at the western end of the Odo Coast. A walking trail set up nearby affords a view of this natural sculpture.
Mt. Sasa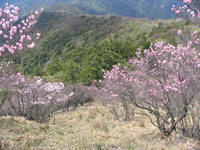 Straddling Kochi and Ehime prefectures, Mt. Sasa has historically been a destination for pilgrim climbers. Colonies of Rhododendron pentaphyllum Maxim. var. shikokianum Yamazaki plants around the summit bloom between the end of April and the beginning of May, during which time the peak is crowded with eager visitors.
Nametoko Gorge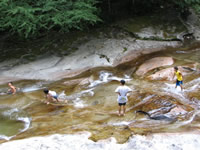 Nametoko Gorge is noted for its smooth riverbed and strangely shaped rocks formed as a result of the erosion of granite over many years. Senjojiki, Deainameri and other points of interest can be seen from a trail winding its way alongside the mountain stream flowing through this gorge. Walk for approximately 40 minutes from the parking lot to come across one of Japan's finest waterfalls. Yukiwanotaki boasts a vertical drop of 80 meters and measures 20 meters in width.
Uwakai Marine Park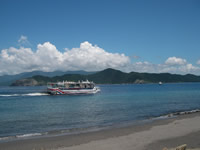 In 1970, Uwakai Marine Park became one of the first areas in Japan to be designated a Marine Park Zone. The park encompasses a total area of 58.2 hectares over nine zones. Long famous as a preeminent diving spot, the park also operates underwater observation boats to allow visitors to marvel at the underwater seascape with ease.
Kashima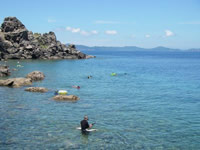 Historically a hunting ground for members of the Date Clan that ruled the Uwajima Domain, Kashima is an uninhabited island that is home to wild monkeys and deer. Regular ferry service to and from the island operates in summer. In addition to a sea bathing beach, the island also offers visitors the chance to enjoy snorkeling in a coral zone aptly named Coral Beach. The island is inhabited by large populations of terrestrial fireflies and Hotaria parvula fireflies. Tours for observing these captivating members of the insect world are held in May of each year. Exercise care around the monkeys of Kashima as they do not fear humans.
Ishigaki-no-Sato (Sotodomari Area)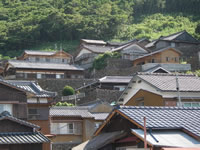 Tours are conducted of stonewalls that were made by piling up natural stones for the purpose of protecting homes built on steep inclines in fishing villages squeezed between the sea and mountains from seasonal winds and tidal damage. Visitors can stroll down narrow passageways between these stonewalls.
Cape Komo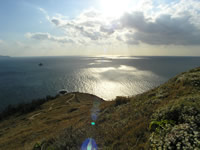 Standing on the tip of a peninsula jutting out into the Uwa Sea, Cape Komo affords views as distant as the mountains of Kyushu on a clear day. It is also popular as a vantage spot from which to admire the dynamic setting of the evening sun. Around the middle of November in late autumn, indigenous Chrysanthemum japonense plants bloom across the entire escarpment of this cape. The fragrance of these fields at such times pervades the peaceful, calm moments that are spent in admiration of an example of natural beauty. This cape is a passage point for migrating hawks and grey-faced buzzards.
Page top