Our Efforts
Promoting Forest Conservation through Business-NGO/NPO Partnership
As global deforestation and forest degradation progresses, the number of businesses that want to make contributions to the environment is increasing in Japan, and many corporations are actually engaged in forest conservation abroad. However, many issues need to be resolved in carrying out forest conservation abroad, such as technical know-how, coordinating local communities, and medium- to long-term planning.
On the other hand, Japanese environmental NGO/NPOs have been making their steady efforts in developing countries suffering from advanced desertification and deforestation, building networks with local governments and local communities, and have produced results in forest conservation abroad. However, these NGO/NPOs share the common problem of a lack of funding and are forced to experience instable activities.
We believe that by combining the strengths of these corporations and NGO/NPOs, such challenges can be overcome and activities can be more effective. In order to promote forest conservation activities through business-NGO/NPO partnership, the Ministry of the Environment has established the "Forest Partnership Platform" website (Japanese language only) that introduces collaborative global forest conservation activities by corporations and NGO/NPOs, provides information useful for forest conservation and case studies of their efforts, and holds seminars on related themes.
Promoting Public Awareness on the "Illegal Logging Problem"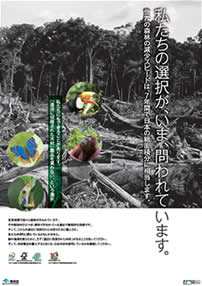 Sustainable forest management is necessary in order to control deforestation, and one obstruction to this is "illegal logging" in which forests are logged in violation of each nation's laws. From April 1, 2006, according to the Law on Promoting Green Purchasing*, the government of Japan began measures to procure only the lumber that had been proven to be legal and sustainable. In order to further promote measures against illegal logging, it is important to make procurement policy based on the Law on Promoting Green Purchasing popular not only for the national government, which subjected itself to the Law, but also for local governments and private corporations. However, according to a 2007 Ministry of the Environment questionnaire survey regarding the greening of lumber procurement, the public interest concerning deforestation and the problem of illegal logging was not high. We believe that this is one of the obstacles to promoting corporate initiatives.
For this reason, the Ministry of the Environment is working to raise public awareness by creating posters, pamphlets, leaflets, and visual materials for environmental education (Japanese language only) so that the general public and end-users of wood products become aware of the problems of deforestation and illegal logging and make efforts to procure wood materials that are proven to be legal and sustainable.
* Law Concerning the Promotion of Procurement of Eco-Friendly Goods and Services by the State and Other Entities