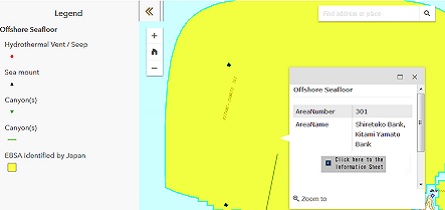 You can zoom in or out by clicking on the "+" and "-" buttons at the top of the screen. Click on the "Home" button to return to the original position.
Click on a marine area (yellow) shown on the map after zooming in to display a small pop-up window showing the area number, name, and other information.
Click on Show Information Sheet in each small window to display the information sheet for the area below the map.
You can change the area displayed by clicking on the map and dragging it in any direction. If you click on another area, its information will be displayed as described above.
Click on "<<" at upper left to display the legend to the map.
It might take longer to display the maps on this website, or the maps might not display correctly, depending on the browser you use (Please use Internet Explorer ver. 9.0 or higher). If you cannot get the map to display well, use the PDF version.
If you zoom in to a scale of 1/4000 or larger, the EBSA and other images shown in the legend will not display. Zoom out to display them again.
If you zoom in to a scale of 1/150,000 or larger, Japanese Topographic Maps will be shown instead of English Topographic Map by the reason of source maps.
Because of geographical error of GSI Maps data around the Okinawa region, boundary line of EBSAs displayed on land or some gap between boundary line and the land will be shown.