Statement
Statement by KOIZUMI Shinjiro, Minister of the Environment, Japan, at G20 Environment Ministers' Meeting (July 22, 2021)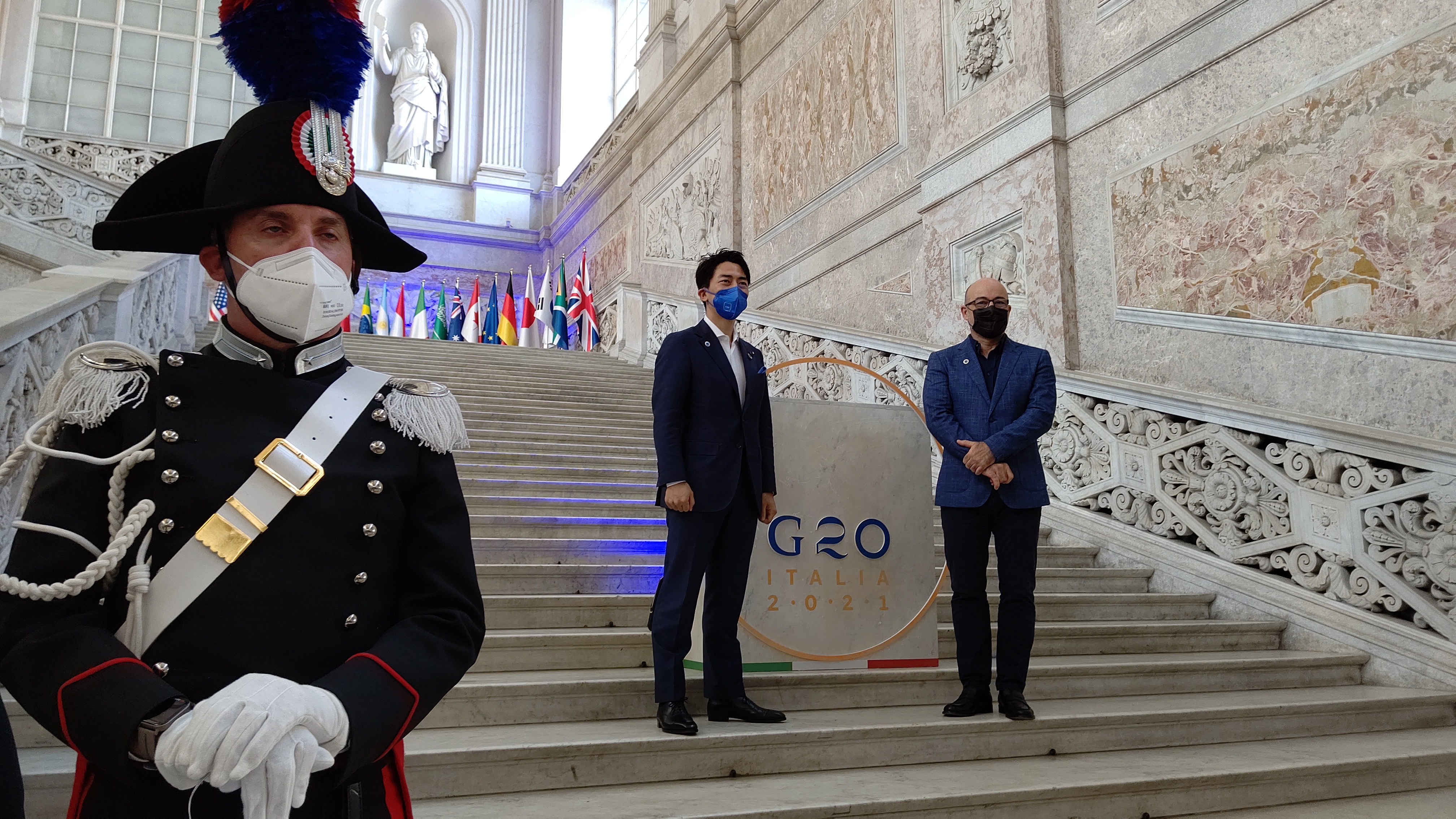 Session 1. Natural Capital to Protect and Manage
1. Introduction
○ Thank you, Mr. President. First of all, I would like to express my deepest condolences for the victims of the recent terrible flooding in China, Germany and nearby countries.
○ Just as we have witnessed in such event, we face major global crises of not just climate change, but also the coronavirus pandemic and biodiversity loss. It is, therefore, essential to redesign our socio-economic system to make it sustainable and resilient.
○ In doing so, G20 nations play a key role. This is why I am grateful to the Italian Presidency for organizing this much needed face-to-face ministerial meeting despite ongoing COVID-19 restrictions. After almost two years of absence in person, I am delighted to finally meet with all of you here today.
2. Biodiversity
○ As we know, the global issues of the COVID-19 pandemic, climate change, and biodiversity loss are deeply interlinked. Both developed and developing nations urgently need to unite to tackle these challenges.
○ Redesigning our socioeconomic system and mobilizing all available resources for that purpose are imperative for the conservation of biodiversity, which is the foundation of human existence, to create a society living in harmony with nature. Full political commitment is essential to reach an agreement of the "Post-2020 Global Biodiversity Framework."
○ Now, let me introduce three biodiversity-related initiatives of Japan.
○ First, the goal of 30 by 30. Japan joined the High Ambition Coalition for Nature and People at the One Planet Summit. In addition to this global target, each of G7 countries including Japan committed to conserve or protect at least 30% of its own land and ocean by 2030 according to national circumstances and approaches. Japan, together with G20 members, will do its utmost to halt and reverse biodiversity loss by 2030.
○ Second, our collaboration with the private sector. The Ministry of the Environment and Keidanren, Japan's largest business federation, have worked together for about 30 years to mainstream biodiversity. The number of companies which have included biodiversity in their management principles has almost doubled in the last 10 years to reach 255. This is the highest level in the world.
○ Many of these Japanese companies are contributing to biodiversity conservation through their cutting-edge technologies, products, and services. Our Ministry and Keidanren are collecting these good practices. We hope to share with the world concrete solutions that will contribute to achieving the "Post-2020 Global Biodiversity Framework."
○ Third, the "Satoyama Initiative." Through this initiative, we have accumulated local good practices promoting the sustainable use of local resources and biodiversity conservation. They also contribute to climate change countermeasures and the transition to a circular economy. Going forward, we plan to support developing countries in revising their national biodiversity strategies and action plans, with a view to supporting the achievement of the 30 by 30 goal through OECMs, based on the concept of the "Satoyama Initiative,".
○ Japan will continue to develop this initiative together with its many partners to provide solutions to realize a virtuous cycle between environmental protection and local economy revitalization.
Thank you, Grazie, Arigato.
Session 2. Joint Efforts for Sustainable and Circular Resource Use
1. Cricular Economy
○ Thank you president. The transition to a circular economy is one of the key pillars for redesigning our socio-economic system. Italy, where we have convened, relates to the circular economy in three significant ways.
○ First, Italy is famous for fashion. G20 members have made remarkable efforts in this field. For example, companies in Japan which are enthusiastic about promoting circular fashion is set to launch a corporate alliance in August. Aiming to achieve carbon neutrality by 2050, we will promote the visualization of environmental impacts and the realization of circular fashion, in collaboration with the alliance.
○ Second, Italy is also known for its great cuisine. Reducing food loss and waste is a common mission of the humanity that comes with the joy of eating well. Japan has set a target of halving food loss and waste by 2030. However, even so, as the amount of food loss will remain still larger than the food assistance provided by WFP, I feel that this target is not high enough. There should be a new and even more ambitious target. All countries are facing various issues in tackling food loss and waste, so let's continue to discuss and solve them together.
○ Third, Italy is famous for football. Football is not just an exciting sport, but it presents opportunities to lead a circular economy. For example,
 Japan's professional football association announced to stop using one way plastic by 2050. Here this is a soccer ball made from recycled plastics. You can assemble and dis-assemble. Children can enjoy playing soccer and having an opportunity to learn about marine plastics and circular economy. So if you are interested in, feel free to take a look at them after the meeting.
○ For our transition to a circular economy, sharing knowledge and experiences on best practices among G20 countries is crucial. I highly appreciate the development of a portal site to facilitate such information-sharing as stated in the communiqué. Japan will share our experiences in the public-private partnership called "Japan Platform for Circular Economy", and cooperate with G20 countries to mobilize efforts towards the transition to a circular economy.
2. Marine Plastic Litter
○ Regarding the issue of marine plastic litter, I appreciate the Italian government to keep and further develop the momentum of the "Osaka Blue Ocean Vision", and the G20 Implementation Framework for Actions on Marine Plastic Litter in this year's G20.
○ Based on the Framework, the "Third Report on Actions against Marine Plastic Litter" was published under the leadership of Italian Presidency. All the valuable contributions are highly appreciated.
○ And as initiatives for the future, Japan shifts the position from neutral to support for the establishment of an Intergovernmental Negotiating Committee (INC) to discuss a new global instrument at UNEA5.2 planned in February next year. The Committee should include as wide participation as possible.
○ As marine plastic litter is an urgent issue, in parallel with the discussions at the INC, it is necessary to continue implementing practical measures aimed at "zero additional plastic waste by 2050".
○ Regarding domestic initiatives, back in June, we passed a new law that will facilitate the circulation of plastics from their design to their disposal.
○ For your reference, we have prepared pens made from marine plastic litter and a leaflet showcasing Japanese business initiatives to reduce microplastics. As shown in the progress made by the corporate sector in reducing marine plastic litter, it is crucial to further advance multi-stakeholder efforts and their engagement.
○Grazie, Arigato.