Designation of Restricted Areas and Areas under Evacuation Orders and Removal Thereof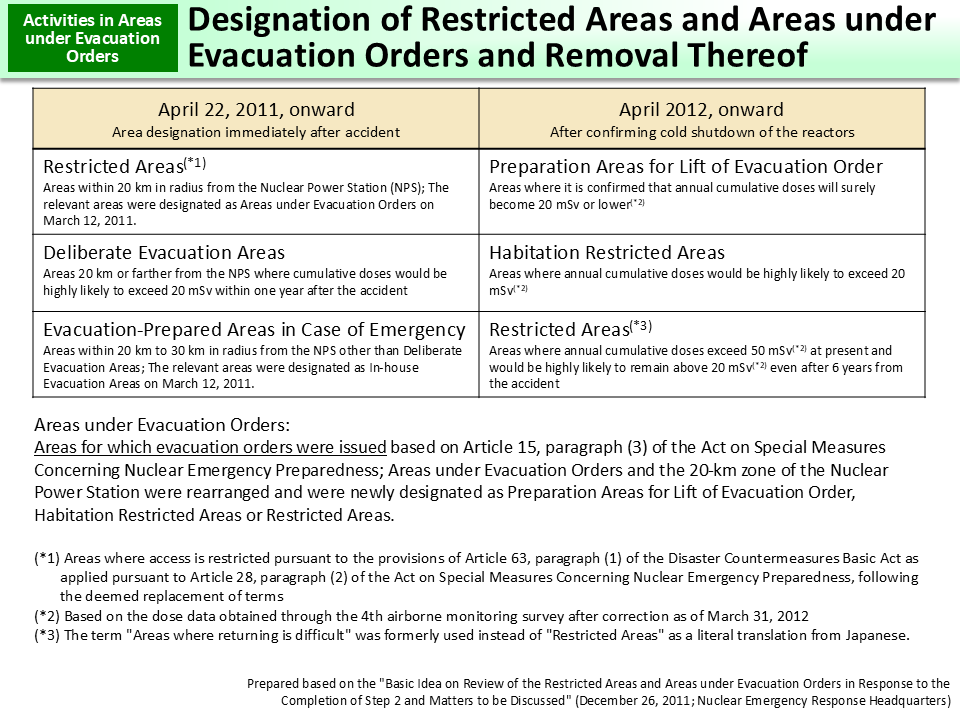 Immediately after the accident at Tokyo Electric Power Company (TEPCO)'s Fukushima Daiichi NPS on March 11, 2011, the Nuclear Emergency Response Headquarters issued evacuation orders in order to avoid risks to residents' lives and designated the areas within 20 km from the NPS as Areas under Evacuation Orders on March 12.
On April 22, for fear of any risks that residents might be exposed to a large amount of radiation at one time as a result of worsening of the situation, the Headquarters designated the relevant areas as Restricted Areas to prohibit access in principle, and also designated areas 20 km or farther from the NPS where cumulative doses would be highly likely to exceed 20 mSv within one year after the accident as Deliberate Evacuation Areas.
On December 16, the reactors reached a state of cold shutdown and the Nuclear Emergency Response Headquarters confirmed that the chaotic situation after the accident ended. Accordingly, on December 26, the basic idea on review of Restricted Areas and Areas under Evacuation Orders was presented. The Headquarters made preparations for the review while closely consulting with the prefecture, municipalities and residents and making adjustments, and at the same time endeavored to address problems common to all subjected areas.
On March 30, 2012, the Headquarters reviewed Restricted Areas and Areas under Evacuation Orders in accordance with radiation doses and problems unique to respective areas. By August 2013, the designation of Restricted Areas and Specific Spots Recommended for Evacuation was completely removed and Areas under Evacuation Orders were newly designated as Areas where Returning is Difficult, where physical protection measures such as installation of barricades were taken, Habitation Restricted Areas, where evacuation is required in principle, or Preparation Areas for Lift of Evacuation Order, where situations are considered to have reached existing exposure situations and support measures for reconstruction and recovery are to be promptly taken.
Included in this reference material on February 28, 2018