Organizations devoted to
environmental conservation

National Institute for
Environmental Studies

16-2 Onogawa, Tsukuba-shi, Ibaraki 305-8506
Tel: 0298-50-2318/2310
URL http://www.nies.go.jp/

■Environmental Research for the 21st century



A bird's-eye view of the National Institute
for Environmental Studies


●Outline of the National Institute for
Environmental Studies
 National Institute for Environmental Studies (NIES) was launched in March 1974 as Japan's central organization for environmental pollution research. In July 1990, NIES was totally reorganized in order to tackle a wider range of research demands, including global and natural environment issues.
Researcher's specialities cover a vast range of disciplines, including basic science, engineering, agricultural science, medical science, pharmacology, fisheries science, law and economics. NIES takes an interdisciplinary approach to research, with participation of researchers both from Japan and overseas.
Comprehensive research projects are carried out using large-scale facilities, combining field research with laboratory work. Since April 2001 NIES has operated as an independent administrative institution, i.e. it is no longer a purely governmental organization.

 
●Aims of Environmental Studies
 The environmental problems that need to be tackled in the 21st century are diverse and complex. Some global environmental problems even threaten the very survival of human beings - like climate change and ozone layer depletion; biological contamination by hazardous chemical pollutants such as dioxins and endocrine disruptors; and waste treatment and recycling. To solve these problems, it is essential to accumulate and make available solid scientific knowledge about these issues. That is why environmental research is so important.

●Promotion of Environmental Studies
 NIES will undertake higher quality research projects, making use of the greater flexibility and efficiency that operating as an independent administrative institution allows, in accordance with our five-year work plans for achieving the medium-term objectives set by Ministry of the Environment. NIES will seek to achieve tangible accomplishments in important areas of research, through priority-based budget allocations and efficient utilization of personnel. These areas include six special high-priority research projects concerning the most socially urgent environmental research issues, as well as two areas of research involving policy responses to new environmental administration needs.


Research at the Endocrine
Disrupter Research Laboratory
●Four Centers and Their Missions
 NIES operates four special centers in addition to its research divisions.
[Environmental Information Center]
Collection, processing and provision of information from Japan and overseas about environmental conservation. Publication of NIES Research Report, etc.
[Center for Global Environmental Research]
Integration of global environmental research (a navigator for global environmental research), support for global environmental research (supercomputing, global environmental databases, etc.) and global environmental monitoring.
[Research Center for Material Cycles and Waste Management]
Research involving policy responses to environmental conservation issues (focused on waste management and recycling).
[Research Center for Environmental Risk]
Research involving policy responses to environmental conservation issues (focused on environmental risk of chemical substances).

Research on shallow-sea ecosystems
National Environmental Research
and Training Institute
3-3 Namiki, Tokorozawa-shi, Saitama 359-0042

Tel: 04-2994-9303
URL: http://www.neti.env.go.jp
 Since it was established in March 1973 as a training institute for personnel involved in Environment Agency-related administration work, the National Environmental Research and Training Institute has conducted courses on environmental administration for large numbers of national and local governmental officers involved in environmental work. In fiscal 2004, the institute held 14 courses on environmental administration (15 classes), 8 courses on international cooperation (8 classes), 15 courses on analysis (18 classes), and 6 courses on officer education (9 classes). The courses were attended by a total of 1,800 people.


●International Cooperation Wing

  (completed in FY1997)

 The building includes many energy conservation features, such as solar power generation systems.

 A total of over 38,000 persons have completed training courses up to now. Of these, approximately 70 percent were local government employees, and fewer than 20 percent were national government employees, with the rest from overseas, including developing countries.
■Training courses (FY 2005)
Environmental administration
Total of 15 courses, including:
・Environmental education
・Environmental Partnership
・Environmental impact assessment
・Chemical management
・Air and traffic environment
・Noise and vibration prevention
・Water quality environment
・Groundwater, subsoil and soil environment
・Natural environment
・Wildlife protection
・Pet care and animal management (new)
・Waste and recycling
・Industrial waste management (new)


International cooperation
Total of 8 courses, including:
?EGlobal environment conservation
?EGlobal warming measures
?ETrainers for overseas trainees
?EIntroduction to international environmental
 cooperation (Introductory/Intermediate/Advanced)

Analysis Total of 17 courses, including:
?EInstrument analysis
?ESpecific instrument analysis
?EAir quality analysis
?EOffensive odor analysis
?EWater quality analysis
?EWaste analysis
?EVOCs analysis
?ESpecial analysis topics
?EEnvironmentally polluting organic chemicals analysis
?EEnvironmental monitoring (dioxins)
?EThe latest analytical skills
?ESpecial analysis


Officer education
Total of 7 courses, including:
・Newly employed officers
・Senior officers
・Local Environmental Affairs Officers
・Nature protection officers
・Basic environmental administration
・Foreign language studies
National Institute for Minamata Disease
4058-18 Hama, Minamata-shi, Kumamoto 867-0008

Tel : 0966-63-3111
URL : http://www.nimd.go.jp
 The National Institute for Minamata Disease was established in 1978 to carry out medical studies on Minamata disease as a part of efforts to promote measures to address this environmental issue. The institute was designated as a WHO Collaborating Center in 1986.
  In 1996, a new department, the Department of International Affairs and Environmental Sciences, was added.
  In 1997, the International Research Collaborating Facilities were opened to boost international cooperation by providing a base for joint research projects.
The institute established Minamata Disease Archives in 2001 to collect, store and analyze Minamata Disease-related materials and information in order to make them readily available both within and outside Japan.


■Major Research Areas:
●Department of International Affairs and
Environmental Sciences
 This department carries out planning and overall coordination of international studies and research on Minamata disease, as well as social and natural sciences studies relating to the disease. It also collects, compiles, and distributes materials on Minamata disease in Japan and overseas.

●Department of Clinical Medicine
 This department carries out clinical investigations into topics such as the treatment of Minamata disease and conducts the medical examinations required for these studies.
●Department of Basic Medical Sciences
 This department conducts pathological, biochemical and physiological studies to investigate the effects of mercury compounds on living organisms, the dynamics of mercury in the environment and the mechanisms of disorders caused by chemicals.

●Department of Epidemiology
 This department conducts epidemiological research and studies on Minamata disease.


Minamata Disease Archives


The logo features a stylized
version of the Chinese character for "water,"
which is the character read as "Mina"
in "Minamata." The colors represent
the blue sea and greenery
of the Minamata area, respectively.
Biodiversity Center of Japan
5597-1 Kenmarubi, Kamiyoshida, Fujiyoshida-shi, Yamanashi 403-0005
Tel : 0555-72-6031
URL : http://www.biodic.go.jp/
?@As called for in the National Strategy of Japan on Biological Diversity, the Biodiversity Center of Japan was established in 1998 in Fujiyoshida City, Yamanashi Prefecture, under the former Environmental Agency (current the Ministry of the Environment). Responsibilities of the center include: implementation of the National Survey on the Natural Environment about every five years based on the Article 4 of the Nature Conservation Law; digitization of the survey results; broad dissemination of information to the public such as through the Internet; systematic collection and preservation of specimens of fauna and flora; and management of exhibition rooms and a website on biodiversity conservation for educational purposes. Bringing these functions into full and synergic performance, the Biodiversity Center plays an important role as a clearinghouse for general information in the nation's natural environment and biodiversity, through such means as supporting the planning of conservation measures by the central and local governments and NGOs, and providing natural environment information for environmental impact assessments.
Exhibition room: Presentations
that explain biological diversity
in an easy-to-understand
and enjoyable way.

External view of
the Biodiversity Center of Japan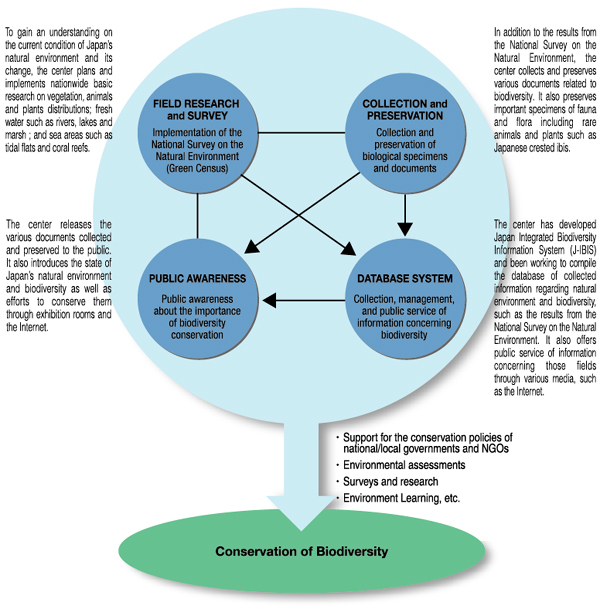 Global Environment
Information Centre
United Nations University, 1F, 5-53-70 Jingumae, Shibuya-ku, Tokyo 150-8925
Tel : 03-3407-8107 URL : http://www.geic.or.jp/geic
Closed: Sundays, Mondays, national holidays and sorting days
(generally 4th Friday of the month)
 The Global Environment Information Center, which was set up by the Environment Agency (current Ministry of the Environment) in 1996, implements the following projects:

To promote partnership-based efforts

 The center promotes partnership-based efforts through human resources development for coordination between various sectors, network formation, and consultation.

To learn efforts of NPOs
and other partnership activities

 In addition to information services through a website and publications, the center develops and operates a library with documents regarding environmental partnership and a database, Kankyo Rashinban, which support NPOs' information dissemination.

 Kankyo Rashinban:

http://plaza.geic.or.jp/

To support activities of NPOs

 In addition to holding of exhibitions and seminars, to strengthen and support the citizens sector to build relationship on an equal footing with corporations and the administration, the center offers use of various facilities such as conference rooms and printers.



To solve environmental issues on global scale

 The center implements partnership projects by various parties such as UN organizations, national governments and NPOs on global environmental issues, and promotes multilateral coordination.
Independent Administrative Institution ,
Environmental Restoration
and Conservation Agency

Muza Kawasaki Central Tower 8F, 1310 Omiya-cho, Saiwai-ku,
Kawasaki-shi, Kanagawa 212-8554

Tel : 044-520-9501    URL : http://www.erca.go.jp/
■Overview of the Independent Administrative Institution,
Environmental Restoration and Conservation Agency
 The Independent Administrative Institution, Environmental Restoration and Conservation Agency was established on April 1, 2004 based on the Reorganization and Rationalization Plan for Special Public Institutions (cabinet decision in December 2001). The agency took over the work of compensation and prevention of pollution-related health damage that was previously under the jurisdiction of the Pollution-Related Health Damage Compensation and Prevention Association. It also assumed several affairs that were under the jurisdiction of the Japan Environment Corporation, such as operation of Japan Fund for Global Environment, support for polychlorinated biphenyl (PCB) waste treatment, and management of final waste disposal site maintenance reserve fund.

■Objectives of the agency
 The agency compensates and prevents the health damage related to pollution and supports environmental conservation activities by private sector. It also assists smooth operation of PCB waste treatment and manages the reserve fund to maintain final waste disposal sites. By conducting all these activities, the agency tries to create sound environment and conserve the remaining environment, with the aim of making contribution for ensuring of cultural and healthy life as well as welfare of mankind at present and future.

■Outline of its affairs
●Compensation and prevention of pollution-related health damage
 To help people who suffered health damage caused by pollution, the agency collects necessary funds to compensate for the damages such as medical expenses from the parties responsible for causing the pollution and delivers the money to the appropriate bodies like local governments, based on the Law concerning Compensation and Prevention of Pollution-related Health Damage. Moreover, the agency complements various measures of the national and local governments to make sure that the health damages caused by air pollution never happens again by utilizing the Pollution-related Health Damage Prevention Fund. The fund is also used for improvement of atmospheric environment and the health damage prevention efforts to ensure and recover the health of local residents.

●Japan Fund for Global Environment
 To solve global environmental issues, not only the efforts by the national government and companies, but also the voluntary efforts by private sector, especially the global environmental conservation activities and voluntary active participation by each and every individual are essential. In light of this, the Japan Fund for Global Environment was established. The fund promotes the national movement of environmental conservation activities by offering funds and other assistance to the environmental conservation activities by the private sector (NGOs/NPOs).

●Work related to an assistance program for
polychlorinated biphenyl waste treatment

●Management of the reserve fund for final waste disposal sites
based on the Waste Disposal and Public Cleansing Law
etc.


Swimming festival for children with asthma

Institute for Global Environmental Strategies
(IGES)
2108-11 Kamiyamaguchi, Hayama, Kanagawa 240-0115

Tel : +81-46-855-3700 URL : http://www.iges.or.jp/
Tokyo Office: +81-3-3595-1081
Kansai Research Centre : +81-78-262-6634
Kitakyushu Office : +81-93-513-3711
  The Institute for Global Environmental Strategies (IGES) conducts pragmatic and innovative strategic policy research to support sustainable development in the Asia-Pacific region.

 IGES collaborates with a broad range of stakeholders such as national governments, NGOs, business and citizens group to carry out the strategic research for the realization of sustainable development, aiming to ensure that the results are reflected in the policy-making process.

■ Research Projects

 The IGES conducts strategic research through projects formed every three years, with the goal of practical results. In the third phase of research (April 2005 to March 2007), the IGES is conducting the following projects:


 ●Climate Policy
 ●Forest Conservation
 ●Urban Environmental Management
 ●Freshwater Resources Management
 ●Business for Sustainable Society
 ●Long-term Perspective and Policy Integration


  IGES is also supporting inter-governmental Programme and networks such as the Technical Support Unit for the National Greenhouse Gas Inventories Programme of the Intergovernmental Panel on Climate Change (IPCC-NGGIP TSU) and the Asia-Pacific Network for Global Change Research (APN). Its activities also include a capability-development project for the Clean Development Mechanism (CDM) for developing countries, and the Eco Action 21 certification and registration program to encourage small and medium enterprises (SMEs) to protect the environment.
Japan Center for Climate Change Actions
(JCCCA)

C/O Japan Environmental Association,
Prime Kamiyacho Building 1-11-9 Azabudai, Minato-ku, Tokyo 106-0041

Tel : +81-3-5114-1281
  On July 1, 1999 Japan Environment Association was designated as JCCCA by the Minister of the Environment at that time, pursuant to Climate Change Policy Law that was brought into force on April 8, 1999, for the purpose of helping to prevent global warming by raising awareness of measures against global warming. In July 2004, the Stop Ondankan museum was opened as a place where people could have fun learning about global warming.


■Management System
  The steering committee, consisting of a partnership formed by representatives from private, industry, and local-government centers, conducts deliberations to decide important JCCCA matters, such as projects and budget. The subordinate divisions of the steering committee make decisions on and implement more detailed matters.
■Major Activities
● Information Database and Library
 The JCCCA collects and stores information concerning climate change from around the world,
 to be published and provided to the public.
● Lifestyle Change
 JCCCA supports NGOs and their activities for the prevention of climate change,
 and works to expand their outputs across sectors.
●Education and Publicity
 The JCCCA carries out public relations activities in order to disseminate the information concerning prevention
 of global warming, including awareness-raising panels and the loan of environmental learning materials.
●Networking with Prefectural Centers for Climate Actions
  The JCCCA supports local activities in collaboration with prefectural centers for promotion
 of activities to cope with climate change.
●Research
  The JCCA researches ways to prevent global warming through everyday lifestyle,
 initiatives by local governments and industry, and the like.
■Access

Three minutesユ walk toward Tokyo Tower
from Tokyo Metro Hibiya Line Kamiyacho Station, Exit 1

■Address

Prime Kamiyacho Building, 1-11-9 Azabudai, Minato-ku, Tokyo 106-0041

■Contact

Stop Ondankan, Japan Center for Climate Change Actions (JCCCA)
Tel : +81-3-5114-1284  Fax : +81-3-5114-1285